Fairy lights are no longer lighting solely used during the Christmas period. Instead, they're now a decorative piece that can be used to create a lovely warm glow in your home throughout the year.
In this blog, we'll show you 10 creative ways you can style indoor fairy lights in your home to give it a magical glow, all year round.
Do fairy lights need to be connected to a mains power source?
If there isn't a plug available where you'd like to position your fairy lights, there's no need to worry. Nowadays, most string lights are battery operated, providing you with a perfect alternative to mains powered lighting that will give you the freedom to position your lights wherever you'd like.
Furthermore, fairy lights aren't just a string of lights attached to a wired cable anymore. Instead, you can choose from a range of fairy light options, such as our LED string lights, which can blend in with your house décor seamlessly.
How to style fairy lights in your home
1. Use fairy lights to light up your staircase
If your hallway is dark and a bit dreary, why not consider adding a bit of sparkle and wrap some fairy lights up and down your staircase?
This area can often be one that is overlooked when it comes to interior décor, but adding fairy lights to your staircase can create wonderful ambient lighting in this small area. Not only this, but decorative fairy lights can also provide a well-lit path towards the upper part of your home.
In this particular area, battery operated string lights would likely work best if you don't have a plug socket close by.
---
2. Display your fairy lights across a mantelpiece or shelving
Displaying fairy lights on a mantelpiece or across shelving can be a fun way to transform what may have once been a dull area, into a sparkly focal point.
Additionally, layering your fairy lights here can also help to highlight any art pieces or personal photographs you may have. This will make these special design features stand out to visitors when they come to your home.
If you have a fireplace with no working fire, another idea to consider is intertwining your indoor fairy lights around some fire logs. Not only will this create an innovative design piece during the day, but it will also give off a subtle glimmer in the evening and mimic the feel of a real fire.
---
3. Frame your mirrors with lights
Framing your mirrors with fairy lights can be a great way to decorate and spruce up any mirrors you have lying around your house, and create an ambient atmosphere throughout your home.
This delicate design idea will give you subtle illumination every time you look in the mirror and furthermore, will also provide you with some indirect task lighting for more intricate jobs whilst getting ready.
---
4. Hang fairy lights above patio doors and windows
During the day, your windows and patio doors will allow plenty of natural light into your home. Particularly during evenings in the winter, this natural light diminishes very quickly, meaning that your home can sometimes become dark and dull.
To remedy this, why not try adding fairy lights inside your home, across the top of your doors and windows to give your room some delicate light in the evening? Even better, this decorative idea will give you some additional lighting to help you navigate where you are, without it being too bright.
---
5. Walk under the stars with ceiling fairy lights
Similarly, you could also consider hanging your fairy lights from the ceiling to create a canopy of lights throughout your home. This type of fairy light design will create the most magical effect and leave you feeling like you're walking under the stars.
If you're worried about your lights falling down, string lights weigh very little, meaning the chances of them falling down are also very little. If you want to ensure that they don't fall down at all, you could also consider only hanging fairy lights on special occasions, like in your dining room or social space, to create that extra bit of ambiance.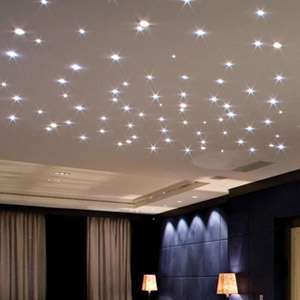 ---
6. Make a feature of your furniture with fairy lights
Do you want to make a statement of a new piece of furniture, an upcycled project, or piece of artwork? Draping fairy lights over your furniture, such as a headboard or wardrobe will put them into the spotlight and highlight any intricate designs.
---
Decorate your home with Lightbulbs Direct
Love our bright ideas? At Lightbulbs Direct, our range of fairy lights are perfect for the Christmas season and all year round, too. We offer both white and multicoloured LED options that can be purchased either battery operated, or mains operated.
Turn your home into a magical place with our range of indoor fairy lights today by viewing our full range, here.